The Best Home Loan for your investment property
Rocket Home Loans and Rocket Property Group
To get the most out of your property investments, you need to have the best home loan. Here at Rocket, we're totally focused on helping property investors. That means we're specialists in investment lending; we're not distracted by first homeowners and commercial borrowers; we won't try to sell you insurance or refer you to financial planners.
We'll assist you to match your investment strategy to the most appropriate loan to achieve your long-term goals, backed by our expertise in loan structuring and lending policy.
Why Rocket Home Loans?
We know home loans for investment property and we can help you.
Our founder, Ian Hosking Richards, was a broker. He knows how painful the process can be, and has made sure we've made the process simple enough that anyone can understand it and use it.
You can trust us as a source for your financial advice and to be able to connect you with the right loan products and providers. We've already helped hundreds of clients to get started in investing and to grow their portfolio.
Our own in-house brokers and recommended partner brokers are not only experienced and fully qualified, but they care about who they're helping. We only work with those who specialise in investment loans and know how to structure loans to fit future property portfolios.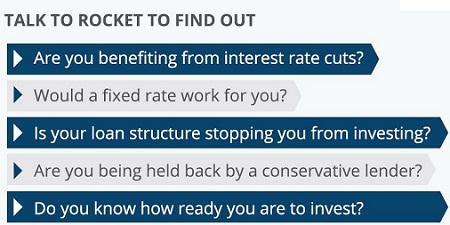 How much do I need to invest?
As a general rule, you'll need about 5–10% deposit to purchase an investment property. If you have existing property, you may be able to use your equity to cover more of the deposit. The criteria for deposits will differ between lenders.
In addition to your deposit, you'll need to consider the following costs: the loan application fee, valuation fees, and stamp duty and other statutory government charges, as well as conveyancing and legal fees.
When we discuss your financial situation, we'll cover costs and benefits. We'll calculate your return on investment so you know that you're getting a return and not just spending money.
How much can I borrow?
Getting an idea of how much you can borrow is the first step to buying an investment property with confidence. It gives you a better idea of your target price range. This means your property advisor can work with you to narrow your property search to meet your purchase budget.
Receive a free detailed assessment of your borrowing capacity from a Rocket Home Loans broker: contact us now.
Find out more
Have we got you started thinking? Do you need the help to advance your property investment strategy? Find out more. Just fill out the form below and we'll get in touch with you.
Save
Save
Save
Save