7 reasons to diversify your portfolio
Facebook (Like)

Google Plus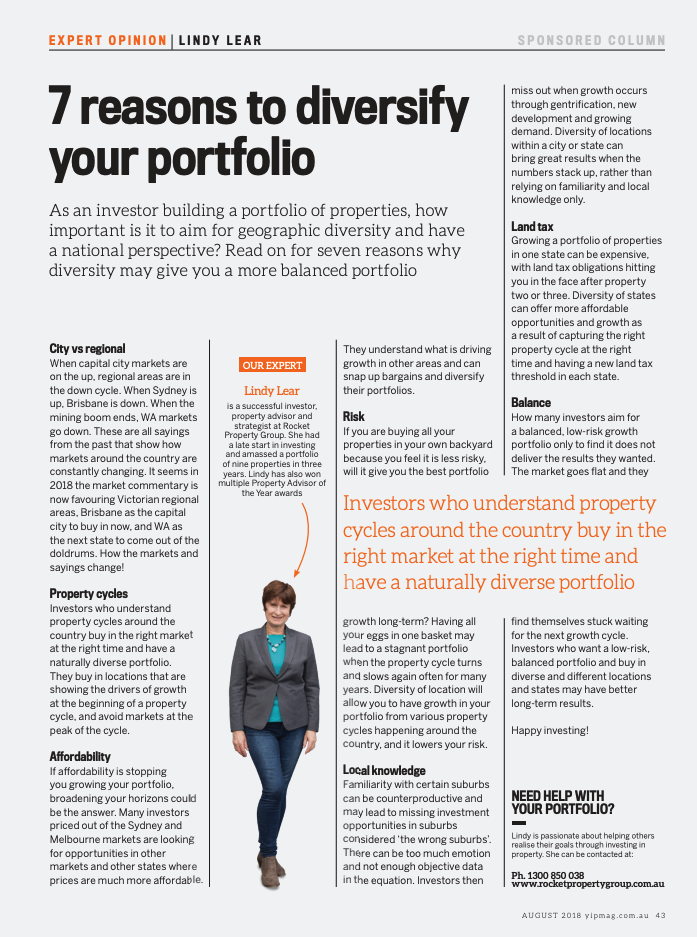 City vs regional
When capital city markets are on the up, regional areas are in the down cycle. When Sydney is up, Brisbane is down. When the mining boom ends, WA markets go down. These are all sayings from the past that show how markets around the country are constantly changing. It seems in 2018 the market commentary is now favouring Victorian regional areas, Brisbane as the capital city to buy in now, and WA as the next state to come out of the doldrums. How the markets and sayings change!
Property cycles
Investors who understand property cycles around the country buy in the right market at the right time and have a naturally diverse portfolio. They buy in locations that are showing the drivers of growth at the beginning of a property cycle, and avoid markets at the peak of the cycle.
Affordability
If affordability is stopping you growing your portfolio, broadening your horizons could be the answer. Many investors priced out of the Sydney and Melbourne markets are looking for opportunities in other markets and other states where prices are much more affordable. They understand what is driving growth in other areas and can snap up bargains and diversify their portfolios.
Risk
If you are buying all your properties in your own backyard because you feel it is less risky, will it give you the best portfolio growth long-term? Having all your eggs in one basket may lead to a stagnant portfolio when the property cycle turns and slows again often for many years. Diversity of location will allow you to have growth in your portfolio from various property cycles happening around the country, and it lowers your risk.
Local knowledge
Familiarity with certain suburbs can be counterproductive and may lead to missing investment opportunities in suburbs considered "the wrong suburbs". There can be too much emotion and not enough objective data in the equation. Investors then miss out when growth occurs through gentrification, new development and growing demand. Diversity of locations within a city or state can bring great results when the numbers stack up, rather than relying on familiarity and local knowledge only.
Land tax
Growing a portfolio of properties in one state can be expensive, with land tax obligations hitting you in the face after property two or three. Diversity of states can offer more affordable opportunities and growth as a result of capturing the right property cycle at the right time and having a new land tax threshold in each state.
Balance
How many investors aim for a balanced, low-risk growth portfolio only to find it does not deliver the results they wanted. The market goes flat and they find themselves stuck waiting for the next growth cycle. Investors who want a low-risk, balanced portfolio and buy in diverse and different locations and states may have better long-term results. Happy investing!
NEED HELP WITH YOUR PORTFOLIO? Ian is passionate about helping others realise their goals through investing in property, and can be contacted at Ph. 1300 850 038
rocketpropertygroup.com.au
Facebook (Like)

Google Plus