Are you an active investor, or merely a procrastinator?
Facebook (Like)

Google Plus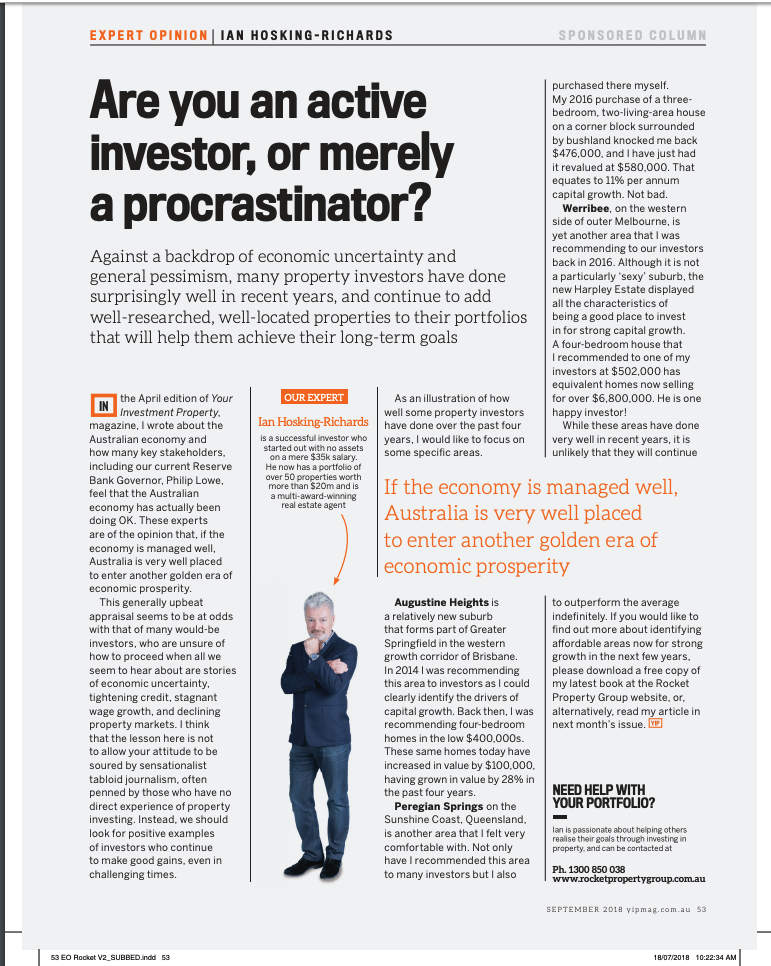 In the April edition of Your Investment Property, magazine, I wrote about the Australian economy and how many key stakeholders, including our current Reserve Bank Governor, Philip Lowe, feel that the Australian economy has actually been doing OK. These experts are of the opinion that, if the economy is managed well, Australia is very well placed to enter another golden era of economic prosperity. This generally upbeat appraisal seems to be at odds with that of many would-be investors, who are unsure of how to proceed when all we seem to hear about are stories of economic uncertainty, tightening credit, stagnant wage growth, and declining property markets. I think that the lesson here is not to allow your attitude to be soured by sensationalist tabloid journalism, often penned by those who have no direct experience of property investing. Instead, we should look for positive examples of investors who continue to make good gains, even in challenging times.
As an illustration of how well some property investors have done over the past four years, I would like to focus on some specific areas.
Augustine Heights is a relatively new suburb that forms part of Greater Springfield in the western growth corridor of Brisbane. In 2014 I was recommending this area to investors as I could clearly identify the drivers of capital growth. Back then, I was recommending four-bedroom homes in the low $400,000s. These same homes today have increased in value by $100,000, having grown in value by 28% in the past four years.
Peregian Springs on the Sunshine Coast, Queensland, is another area that I felt very comfortable with. Not only have I recommended this area to many investors but I also purchased there myself. My 2016 purchase of a three-bedroom, two-living-area house on a corner block surrounded by bushland knocked me back $476,000, and I have just had it revalued at $580,000. That equates to 11% per annum capital growth. Not bad.
Werribee, on the western side of outer Melbourne, is yet another area that I was recommending to our investors back in 2016. Although it is not a particularly "sexy" suburb, the new Harpley Estate displayed all the characteristics of being a good place to invest in for strong capital growth. A four-bedroom house that I recommended to one of my investors at $502,000 has equivalent homes now selling for over $6,800,000. He is one happy investor! While these areas have done very well in recent years, it is unlikely that they will continue to outperform the average indefinitely. If you would like to find out more about identifying affordable areas now for strong growth in the next few years, please download a free copy of my latest book at the Rocket Property Group website, or, alternatively, read my article in next month's issue.
NEED HELP WITH YOUR PORTFOLIO? Ian is passionate about helping others realise their goals through investing in property, and can be contacted at Ph. 1300 850 038
rocketpropertygroup.com.au
Facebook (Like)

Google Plus