Changes are coming to the investment lending environment
Facebook (Like)

Google Plus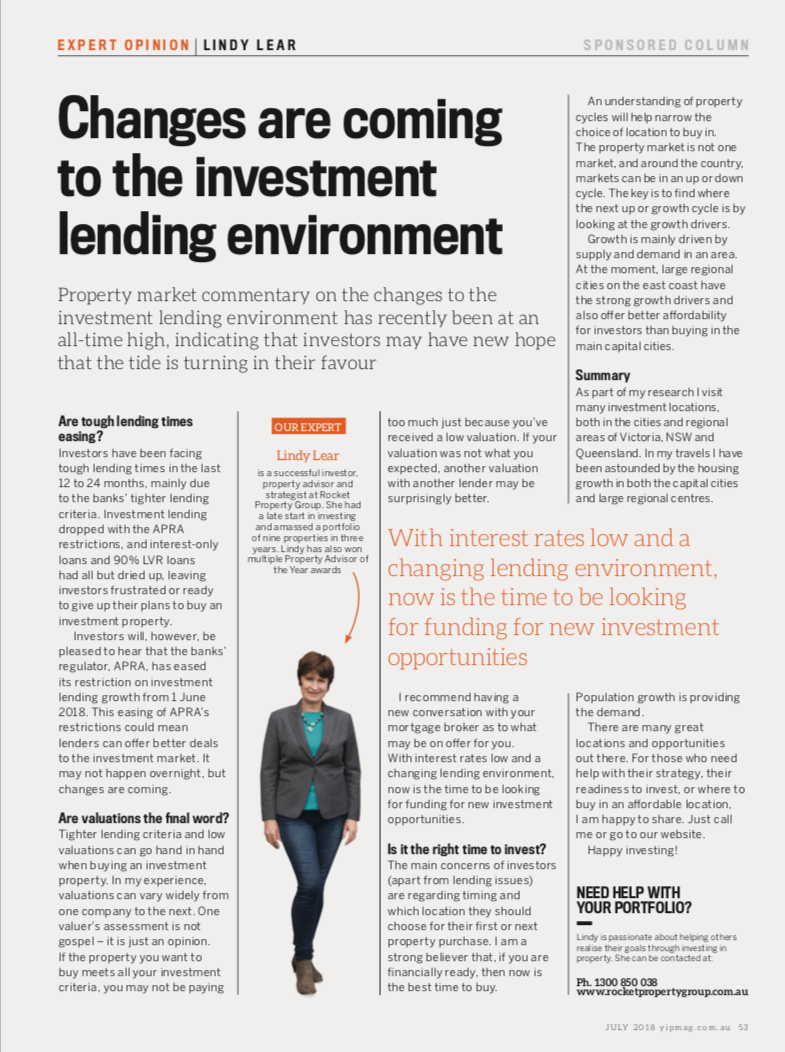 Are tough lending times easing?
Investors have been facing tough lending times in the last 12 to 24 months, mainly due to the banks' tighter lending criteria. Investment lending dropped with the APRA restrictions, and interest-only loans and 90% LVR loans had all but dried up, leaving investors frustrated or ready to give up their plans to buy an investment property.
Investors will, however, be pleased to hear that the banks' regulator, APRA, has eased its restriction on investment lending growth from 1 June 2018. This easing of APRA's restrictions could mean lenders can offer better deals to the investment market. It may not happen overnight, but changes are coming.
Are valuations the final word?
Tighter lending criteria and low valuations can go hand in hand when buying an investment property. In my experience, valuations can vary widely from one company to the next. One valuer's assessment is not gospel - it is just an opinion. If the property you want to buy meets all your investment criteria, you may not be paying too much just because you've received a low valuation. If your valuation was not what you expected, another valuation with another lender may be surprisingly better.
I recommend having a new conversation with your mortgage broker as to what may be on offer for you. With interest rates low and a changing lending environment, now is the time to be looking for funding for new investment opportunities.
Is it the right time to invest?
The main concerns of investors (apart from lending issues) are regarding timing and which location they should choose for their first or next property purchase. I am a strong believer that, if you are financially ready, then now is the best time to buy.
An understanding of property cycles will help narrow the choice of location to buy in. The property market is not one market, and around the country, markets can be in an up or down cycle. The key is to find where the next up or growth cycle is by looking at the growth drivers.
Growth is mainly driven by supply and demand in an area. At the moment, large regional cities on the east coast have the strong growth drivers and also offer better affordability for investors than buying in the main capital cities.
Summary
As part of my research I visit many investment locations, both in the cities and regional areas of Victoria, NSW and Queensland. In my travels I have been astounded by the housing growth in both the capital cities and large regional centres. Population growth is providing the demand.
There are many great locations and opportunities out there. For those who need help with their strategy, their readiness to invest, or where to buy in an affordable location, I am happy to share. Just call me or go to our website. Happy investing!
NEED HELP WITH YOUR PORTFOLIO? Ian is passionate about helping others realise their goals through investing in property, and can be contacted at Ph. 1300 850 038
rocketpropertygroup.com.au
Facebook (Like)

Google Plus