How to balance risk with return
Facebook (Like)

Google Plus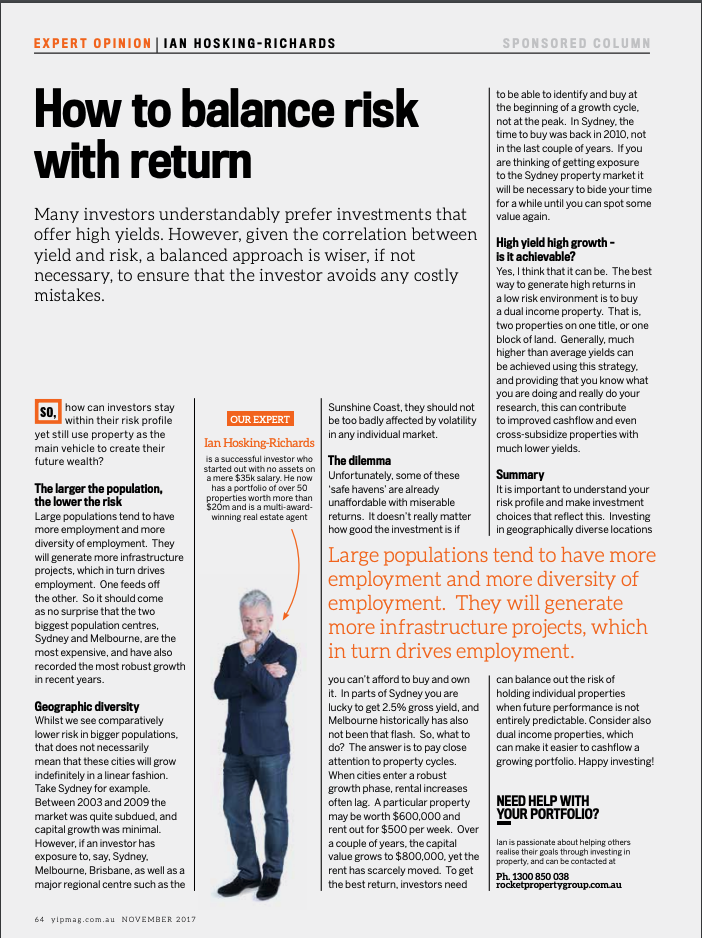 So, how can investors stay within their risk profile yet still use property as the main vehicle to create their future wealth?
The larger the population, the lower the risk
Large populations tend to have more employment and more diversity of employment. They will generate more infrastructure projects, which in turn drives employment. One feeds off the other. So it should come as no surprise that the two biggest population centres, Sydney and Melbourne, are the most expensive, and have also recorded the most robust growth in recent years.
Geographic diversity
Whilst we see comparatively lower risk in bigger populations, that does not necessarily mean that these cities will grow indefinitely in a linear fashion. Take Sydney for example. Between 2003 and 2009 the market was quite subdued, and capital growth was minimal. However, if an investor has exposure to, say, Sydney, Melbourne, Brisbane, as well as a major regional centre such as the Sunshine Coast, they should not be too badly affected by volatility in any individual market.
The dilemma
Unfortunately, some of these "safe havens" are already unaffordable with miserable returns. It doesn't really matter how good the investment is if you can't afford to buy and own it. In parts of Sydney you are lucky to get 2.5% gross yield, and Melbourne historically has also not been that flash. So, what to do? The answer is to pay close attention to property cycles. When cities enter a robust growth phase, rental increases often lag. A particular property may be worth $600,000 and rent out for $500 per week. Over a couple of years, the capital value grows to $800,000, yet the rent has scarcely moved. To get the best return, investors need to be able to identify and buy at the beginning of a growth cycle, not at the peak. In Sydney, the time to buy was back in 2010, not in the last couple of years. If you are thinking of getting exposure to the Sydney property market it will be necessary to bide your time for a while until you can spot some value again.
High yield high growth - is it achievable?
Yes, I think that it can be. The best way to generate high returns in a low risk environment is to buy a dual income property. That is, two properties on one title, or one block of land. Generally, much higher than average yields can be achieved using this strategy, and providing that you know what you are doing and really do your research, this can contribute to improved cashflow and even cross-subsidize properties with much lower yields.
Summary
It is important to understand your risk profile and make investment choices that reflect this. Investing in geographically diverse locations can balance out the risk of holding individual properties when future performance is not entirely predictable. Consider also dual income properties, which can make it easier to cashflow a growing portfolio. Happy investing!
NEED HELP WITH YOUR PORTFOLIO? Ian is passionate about helping others realise their goals through investing in property, and can be contacted at Ph. 1300 850 038
rocketpropertygroup.com.au
Facebook (Like)

Google Plus