Timing the property market to get the best results
Facebook (Like)

Google Plus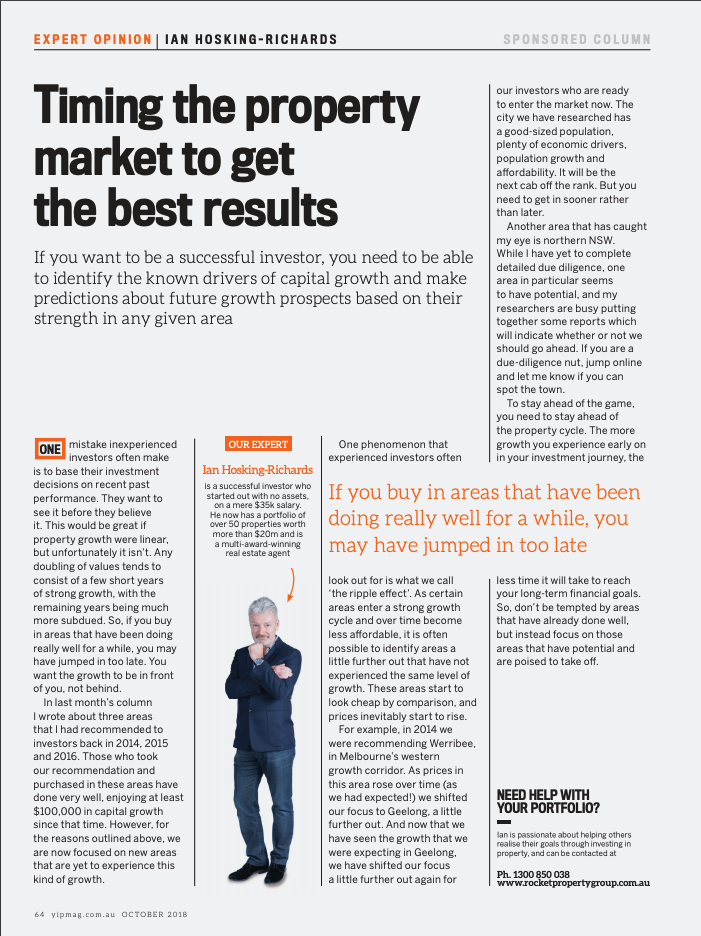 One mistake inexperienced investors often make is to base their investment decisions on recent past performance. They want to see it before they believe it. This would be great if property growth were linear, but unfortunately it isn't. Any doubling of values tends to consist of a few short years of strong growth, with the remaining years being much more subdued. So, if you buy in areas that have been doing really well for a while, you may have jumped in too late. You want the growth to be in front of you, not behind.
In last month's column I wrote about three areas that I had recommended to investors back in 2014, 2015 and 2016. Those who took our recommendation and purchased in these areas have done very well, enjoying at least $100,000 in capital growth since that time. However, for the reasons outlined above, we are now focused on new areas that are yet to experience this kind of growth.
One phenomenon that experienced investors often look out for is what we call "the ripple effect". As certain areas enter a strong growth cycle and over time become less affordable, it is often possible to identify areas a little further out that have not experienced the same level of growth. These areas start to look cheap by comparison, and prices inevitably start to rise.
For example, in 2014 we were recommending Werribee, in Melbourne's western growth corridor. As prices in this area rose over time (as we had expected!) we shifted our focus to Geelong, a little further out. And now that we have seen the growth that we were expecting in Geelong, we have shifted our focus a little further out again for our investors who are ready to enter the market now. The city we have researched has a good-sized population, plenty of economic drivers, population growth and affordability. It will be the next cab o the rank. But you need to get in sooner rather than later.
Another area that has caught my eye is northern NSW. While I have yet to complete detailed due diligence, one area in particular seems to have potential, and my researchers are busy putting together some reports which will indicate whether or not we should go ahead. If you are a due-diligence nut, jump online and let me know if you can spot the town.
To stay ahead of the game, you need to stay ahead of the property cycle. The more growth you experience early on in your investment journey, the less time it will take to reach your long-term financial goals. So, don't be tempted by areas that have already done well, but instead focus on those areas that have potential and are poised to take off.
NEED HELP WITH YOUR PORTFOLIO? Ian is passionate about helping others realise their goals through investing in property, and can be contacted at Ph. 1300 850 038
rocketpropertygroup.com.au
Facebook (Like)

Google Plus