Summary of Key Findings of PIPA Annual Investor Sentiment Survey 2017
Facebook (Like)

Google Plus

This year, 742 property investors completed the annual PIPA Property Investment Sentiment Survey. PIPA is the peak Property Investment Industry Association in Australia, of which Rocket Property Group is a member. The property industry market eagerly awaits the survey results each year. The Investor Sentiment Survey gives a snapshot of Australia's existing and aspiring property investors mood, confidence and key trends in the current residential investment market. Our senior property advisor, Lindy Lear, examines the results of the survey and summarises what these findings mean for Australian property investors.
key changes in investing landscape 2016
It is important to examine the changes which has taken place in the last year to provide context to the results and to consider their impact on investor sentiment. Changes since 2016 include:
Regulators have cracked down on interest-only loans
Tightened criteria for investment lending
Higher interest rates for Investors compared with Owner Occupiers
Changes announced since the Federal Budget include changes to depreciation and first-home owners
Economic growth has slowed early in the first quarter of the year with only a slight pick-up in the second quarter
Political debate over negative gearing
China Factor restricting citizens investing overseas
Geopolitical events impact on Global markets
Summary of Key Findings from Survey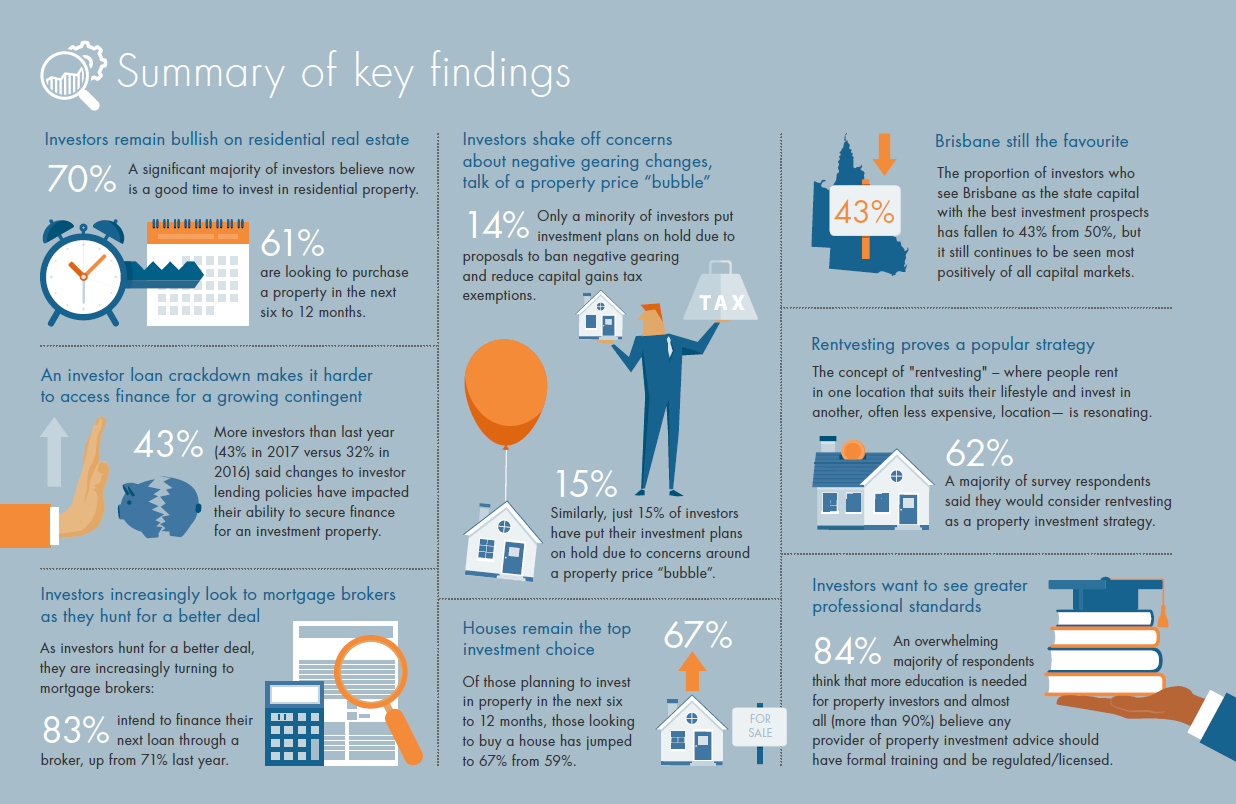 Investor Confidence & Challenges
Despite the many changes to the investor landscape over the past year, it appears investor confidence remains high, especially with 70% of respondents believing the time to buy is NOW. Very much like our CEO, Ian Hosking Richards very few seem to be put off by the potential changes to negative gearing or the property bubble bursting.
The most optimistic investors are driven by capital growth prospects of what a property portfolio can give them in the future and less daunted by any finance hurdles and intend to buy in the next 6-12 months. 47% of respondents said that their strategy was to hold their properties and never sell - which is very much in line with our strategy and recommendations.
Property Types & Location
Houses are still the preferred investment option by both the survey respondents and many of our own investors. Such investors benefit from the huge stamp duty savings of buying a new house & land package, and the better rent, better tenant and less maintenance a new property can give.
The main locations preferred by 73% are metropolitan and 43% say Brisbane is the most popular capital city, with Melbourne preferred by 32%. This parallels where our investors have been buying, including Ian's own latest purchases. Rocket investors who have been priced out of the Sydney market are preferring to rent where they like to live (i.e Sydney) and investing in more affordable interstate markets. This rentvest strategy is also preferred by 62% of respondents as a way to have your cake and eat it too!
Seeking Professional Help
The increase for those intending to finance their next loan through a broker strongly takes into account the affect the challenges put up by the regulators and lenders in the last year. The Rocket team and our investors have found that using a mortgage broker to find the best deal for refinancing or borrowing seems extremely beneficial. A broker can source many different lenders and find one that suits your personal circumstances - as well as the best interest rate.
Using professionals has become more important for respondents with 57% getting their advice from a Property Investment Advisor who holds professional qualifications and licenses. Rocket Property Group is proud to have been a professional member of PIPA for the last 7 years and will continue to support regulation in the property investment industry.
To download a full copy of the report and the survey results, please visit the PIPA Annual Survey page.
Facebook (Like)

Google Plus